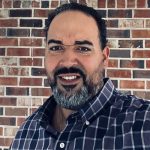 Paul Hutson, Jr.
Director of Operations
Meet Paul
Paul's dedication to efficiency and performance is exactly what we have been praying for! He has a way of looking at systems and processes to make the improvements that reduce time, save money and increase productivity. He does all of this while keeping the focus on customer satisfaction and profitability.
Paul brings a wealth of experience with organizational and backend systems that help ensure we provide the level of service that our clients deserve. We are very fortunate to welcome him aboard and are excited to fully utilize his wealth of knowledge in human resources, recruiting, education and project management to continue to serve our internal and external clients with excellence!
Although Paul is great in the work force, his light really shines brightest as a husband, father and Coach. Jesus Christ and family are his daily motivation and he leads his family with pride.
Paul is an amazing football coach and athletic trainer who works with young men across the Hampton Roads area. Paul is truly a gifted, humble, servant leader who has positively impacted the lives of many of young men by showing them how to compete on and off the field.
Paul's coaching and athletic company is called "In the Trenches" and is a thriving business in Hampton Roads. He is passionate about making a positive impact - not just on our real estate clients but on every life he is blessed to serve.
In his spare time, you will find Paul lake hopping, trying to catch the biggest bass fish he can find or simply cuddled up on the couch with his best friend, Max.