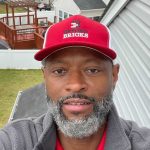 Gerald Irving "Mr. G"
Beyond Bricks Home Inspections Virginia License Number # 3380001720
A little bit about me...
For the past few years, we have been blessed to partner with Mr. Gerald Irving as our preferred home inspector in Hampton Roads. We have been blessed to work alongside him to help our clients make decisions before listing their home for sale with his 'pre-listing' inspection. My seller clients have been able to rest easier knowing what could show up on a home inspection and are able to be proactive versus being reactive. Beyond Bricks has also helped our clients understand the condition of a property before purchasing it and used the detailed inspection report to negotiate repairs with sellers.
"Mr. G" is a man of integrity, he is professional, knowledgeable and always prompt. Our clients have been very impressed with the level of service he provides - not only during the inspection but many of them have reached out months after closing on their home. We are truly grateful to have the ability to partner with Beyond Bricks as our preferred home inspection company!
Beyond Bricks Inspection Company is owned and operated by Gerald Irving. As a veteran of the United States Army, Gerald's work ethic, attention to detail and overall discipline are a few of the traits that set him apart as a home inspector. At Beyond Bricks our motivation is quite simple, our clients and fellow real estate professionals deserve the highest standard possible when choosing a home inspection company. Our unparalleled commitment to customer service, attention to detail, ethical standards and clear communication are all just a small fraction of what separates us from other home inspection companies. Bottom line, we are committed to providing the highest level of customer satisfaction and a quality home inspection experience here at Beyond Bricks. Our clients will receive a highly informational and educational inspection experience that goes beyond the basic home inspection checklist to not only reveal deficiencies and emerging issues, but also shed light on the home's real strengths. At Beyond Bricks our clients come first and that's something that will never change. These invaluable experiences are just a few reasons why once you use Beyond Bricks to conduct a home inspection, we will become your primary choice for all your Hampton Roads home inspection needs. Our superb customer service and quality inspections will have you hooked from the beginning.
Ask about our "HERO" discount for all present and former members of the military.